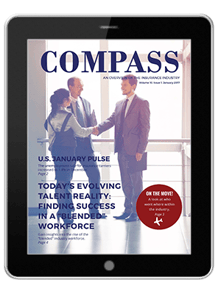 Stay current on insurance industry
talent news and issues.
Today's Evolving Talent Reality: Finding
Success in a "Blended: Workforce
Faced with a rapidly shifting labor market, more and more organizations are utilizing temporary employees as part of their revamped staffing strategies. Brad Whatley, senior vice president with Jacobson, shares insights into the growth of temporary staffing within the industry and best practices and strategies for integrating contract professionals into your organization.
PULSE of the U.S. Insurance Labor Market
Unemployment for insurance carriers and related activities in the U.S. increased to 1.8 percent in December, with the addition of 4,100 jobs.
Read this regular feature for additional highlights on the insurance industry's current labor market situation.
Recent Executive-level Insurance Moves
Browse our list of executives who recently took on new challenges within the industry.
Download Compass for insights on the the importance of succession planning.