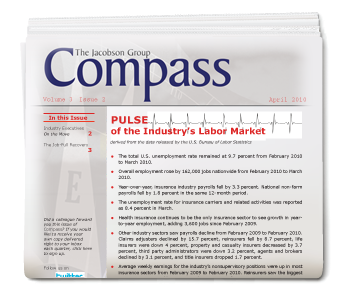 Stay current on insurance industry talent news and issues.
The Job-Full Recovery
While the economic recovery began last autumn, it is just now starting to create jobs, and we predict at least a moderately robust rebound in the labor market in 2010 that will gain strength as the year progresses and beyond. This issue's feature article covers industry employment trends including our predictions for the insurance industry.
PULSE of the U.S. Insurance Labor Market
Unemployment for insurance carriers and related activities in the U.S. increased to 8.4 percent in March.
Read this regular feature for additional highlights on the insurance industry's current labor market situation.
Recent Executive-level Insurance Moves
Browse our list of executives who recently took on new challenges within the industry.
Download Compass for a look at our predictions for insurance industry employment along with an update on the industry's current talent market.