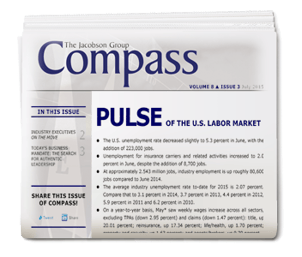 Stay current on insurance industry talent news and issues.
Today's Business Mandate: The Search for Authentic Leadership
This issue's feature article highlights the growing demand for a new type of leadership. The difficult economic climate of the last decade has created a feeling of distrust in organizational leaders. Today's employees are looking for a new kind of business leader to take the helm. Jacobson's Managing Partner, Margaret Resce Milkint, shares insights on the positive impact authentic leadership is having on organizational productivity and success.
PULSE of the U.S. Insurance Labor Market
Unemployment for insurance carriers and related activities in the U.S. increased slightly to 2.0 percent in June, despite the addition of 8,700 jobs.
Read this regular feature for additional highlights on the insurance industry's current labor market situation.
Recent Executive-level Insurance Moves
Browse our list of executives who recently took on new challenges within the industry.
Download Compass for a look at the need for authentic leadership along with an update on the insurance industry's talent market.